Vline Climbing Site Goes Live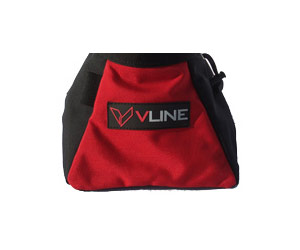 Back in November I told readers about the new climbing soft goods company VLINE Climbing, which was started by an old climbing buddy of mine Brandon Gonsalves.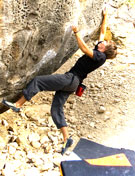 Most climbers I know are frustrated by the lack-of-quality some of the larger name climbing gear companies are putting out. With VLINE you get what you pay for and a lot more. I have a VLINE chalkbag (thanks Gonz!) that is truly bomber. The quality of the materials and workmanship far surpass any chalkbag I've ever owned. Using 1000 d Cordura and 1680 Ballistic Nylon (bullet proof vest material) VLINE hand stitches custom chalk bags/pots, crash pads and messenger bags.
Climbers should care for harnesses, ropes and pro like because their lives depend on it. However, clothes, chalk bags and crash pads take a beating without malice. VLINE gear can take what you throw at it and you're still the steeziest mofo at the crag. Checkout the new VLINE Web site and buy yourselves some gear that's going to last.
Web Launch Special – All VLINE Stock Products 10% off until March 2008!
Posted by: Lawrence