VLine – Custom Bouldering Gear Designed to Last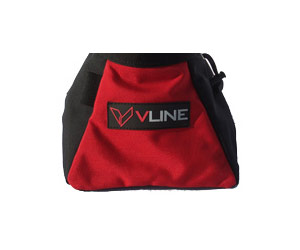 Sometimes you can tell a quality product by just looking at it. BMW, Bose, Apple and VLINE are examples of this. What? You never heard of Vline? You will. Their bouldering gear easily stands out among other manufacturers thanks to obvious quality.

VLINE Climbing takes a different approach to gear manufacturing. All hand-stitched in the USA in small batches, VLINE gear is built to last, using 1000 d Cordura and 1680 Ballistic Nylon (material originally designed for bullet proof vests!). On my other chalk bags for example – all of them in fact – I've blown out the brush loop. VLINE uses a solid 1.5-inch elastic brush holder sewn deep into the outer bag material. Their chalk pot features two of these 1.5-inch elastic brush holders, 2 Velcro closure pockets and an off-centered handle for easy dipping.
Climbing and bouldering is hard on hands, feet, tendons, clothes, gear and even relationships. Most hardcore boulderers can afford to shed some skin or blow-off their significant other for the sake of a project. But how many can continue to shell out good money on equipment that falls apart, even after limited use?
Beyond the 12 stock color combinations, visitors to vlineclimbing.com will soon be able to select from over 20 colors of nylon fabric and 20 colors of fleece to design custom chalk bags, chalk pots and crash pads. VLINE also has fabrics that include some unique colors and textures such as neon and dyed rabbit furs! I'll post an update when the site goes live, hopefully before the holidays!
Posted by: Lawrence