In the original Bad Boys (1983), while doing time in juvie, Paco Moreno (Esai Morales) had a hard-on for Michael 'Mick' O'Brien (Sean Penn). Not in the 'gay for the stay' way, but to avenge the accidental death of Paco's little brother.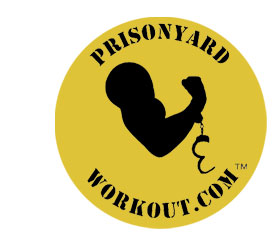 In the end, street smarts and a pillow case full of soda cans compensated for Mick's skinny physique. Had Mick known about the Prison Yard Workout he could have bulked up and prevented any unpleasant confrontation through sheer intimidation – hulking muscles ready to burst out of his pasty Irish skin.
In a few maximum and most medium security prisons, inmates have access to weight lifting equipment that even law abiding citizens can't afford (even gym memberships). Not only do opponents feel this is unfair, but they also fear that when these inmates are released they're more intimidating and more capable of inflicting harm than ever before.

The truth however, is that even without equipment, prisoners find ways to build the strength and muscle mass necessary to survive their environment. Prison Yard Workout promises you will "Get the body of an inmate without doing 5 to 10," and without the use of equipment or expensive gym memberships. Actual ex-cons will teach you their workout secrets on a DVD that contains over 30 workouts to target arms, chest, back, shoulders, legs and abs.
I've not been incarcerated, nor have I tried the DVD. But if you believe in second chances, want to have the body of an inmate, or want (as Darnay T says in their testimonials) to "attract the ladies," then either commit a heinous crime or buy the DVD. Just don't be like Mick and don't be nobodies bitch.