Killer Gear Deals (usually)…
I'm always looking for a good deal on gear. I'm not saying I buy a lot of gear (cough) but I do like to know what the going rate is for – oh I don't know, a Metolius FatCam. Mountain Gear has them for $40, not bad but here's the thing – I don't even climb trad, just sport and bouldering.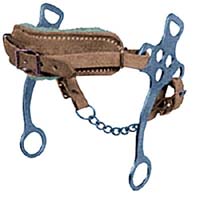 So why do I even care? I mean I cared about gear deals long before bitness.com existed, so it's not the blog. It's because I freakin' love gear. I'm terrified of horses but check out the deal on this Fleece Lined Hackamore! You won't ever find me defending my wicket – but how can I ignore the aptly named 'hot deal' on this pre-knocked, factory seasoned CA-Pakistan cricket bat?
One of my favorite sources for finding out about reasonably priced gear is SteepAndCheap.com, a Backcountry.com 'powered' site. When the clock strikes midnight, I get an email with the first deal of the day. But I don't stop there. I also subscribe to the SAC RSS feed, so I can track when a new deal is posted. Deals are typically 60% below retail – not bad.
Other good gear sites are the aforementioned MountainGear.com, REI, Campmor and of course Overstock.com, the 500 pound gorilla of discount merchandise.
I'd like to know if anyone else knows of some good gear sites? Leave a comment with the link and description of the site so the rest of us gear freaks can get a fix.