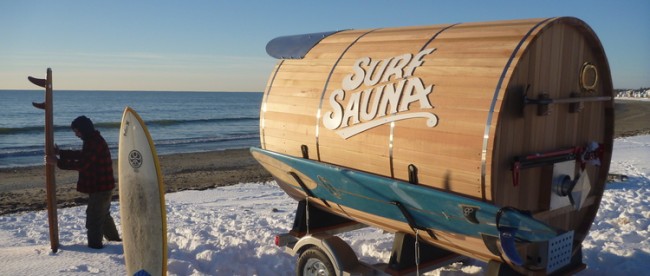 A few friends and I like to surf a fairly remote spot with about a mile hike-in. About 3/4 of the way on my hike I noticed the leg of my wetsuit felt thin – shit, wrong suit. With head-high waves clearly visible at this point I wasn't turning back. Once I started to suit-up, I realized I had also forgotten my towel and rash guard – not a great start to the session, but my friend bailed me out with a few loaners. About 90 minutes into the surf the cold settled-in and I got back to shore and ran the mile back to my truck, in full wetsuit and all my gear, in olympic qualifying time. Once in my car it wasn't bad, but true relief wasn't until I got back home and into a hot shower.
Had I owned a Surf Sauna, a mobile sauna built in New Hampshire (USA) and custom designed for up to 2-8 surfers, I'd have cozied up on the spot. The benefits of saunas are widely known, detoxification, boosting the immune system, stress relief, relaxing and soothing muscles, etc. But for winter surfers the obvious benefit is to warm-up after a chilly winter session ASAP and towing one of these bad boys behind your truck to your favorite spot is guaranteed to get you some wave selection in the lineup, not to mention some new friends.
Surf Saunas are custom made to your specifications using Western Red Cedar, a naturally rot resistant and antimicrobial wood choice. The chassis and hardware are made from marine grade galvanized and stainless steel, designed to hold up to years of exposure to the elements. An optional off-road kit with wide tires, mounted shovel and hi-lift jack are perfect for surfing outer beaches and I have a few places in mind for some winter camping.
If you're a winter surfer, a winter camper, or just looking to tap into your inner Richard Rush (Bruce Willis in Color of Night) consider contacting the folks at Surf Sauna.
Posted by: Lawrence