Radinn Electric Wakeboard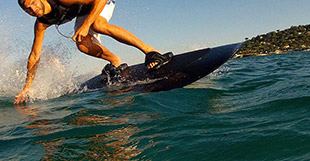 From the looks of the video this electric wakeboard looks heavier than the carbon fiber construction might lead you to believe. The point of wake boarding is to have a wake to jump, carve off of and do butter tricks. I didn't see any of this in the video (more like an acid drop off a small waterfall) and the rail looked slow.
All that being said, I think this would be a fun way to get around on the water, but not as aggro as the video the video tries to convince us. I would have liked to seen it taken out into rougher water, surf, even ocean swells.
Source: My Modern Met