The Boardswag – dirt-bagging in relative comfort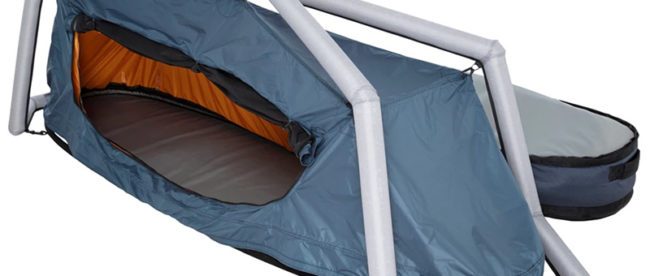 For surfers traveling on a budget too tight for a hotel, an Airbnb, or maybe aren't comfortable couch surfing, there's camping. In the past you'd need to pack an extra tent or a sleeping hammock like a Hennessy Hammock, but there is another solution even more minimalist — sleep in your board bag!
It's not a new concept and one Bitness.com wrote about
over seven years ago
with the
WaveCave
.
The Boardswag
doesn't appear to be for sale just yet, but hopefully they can bring the product to market for budget conscious surfers in the market for a new bag that can hold 3 + boards, gear and pump.
Features
Dual compartments; board and swag​
Double density padding, long life zippers, internal compression straps​
Multiple anchor points, carry handles and storage pockets​
Inflatable swag structure with dual layer waterproof canopy and peg/tie down points​
Mesh fly screen and windows​
Removable 30mm self inflating mattress
Visit The Boardswag to signup and be one of the first to get your hands on this new board bag!