A Better Way to Pitch a Tent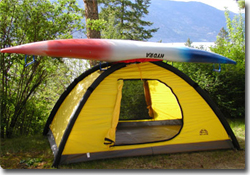 This one falls into the "dammit, why didn't I think of that" category. Unlike rigid pole tents, AirZone Recreation's durable and easy-to-inflate tents are easy to stuff into any available space. When it's dark, raining, snowing or cold you will appreciate how much quicker and less frustrating pitching an AirZone tent can be.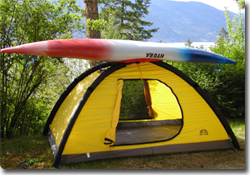 On cycling trips, use a hand pump to inflate the AirZone tent in less than a few minutes. I don't recommend you go trekking with an air-compressor and generator, the AirZone can also be inflated a CO2 dispenser and will have you spreading-out the sleeping bag in just 10 seconds.
These rigid tents are as tough as any traditional tent available. Tested under load and in wind speeds in excess of 40 MPH, the AirZone has quickly gained a dedicated following over the past 6 years. In the rare event one of the poles is punctured, you can unzip and install a spare. If you don't have a spare AirZone claims that one inflated pole will get you through the night.
You don't have to be a Boy Scout to pitch one of AirZone's 4 tent models…
Goldfinch 2 person $299
Ptarmigan 3 person $399
Osprey 4 person $499
Condor 6-7 person $599
Posted by: Frank