Back on Track with YakTrax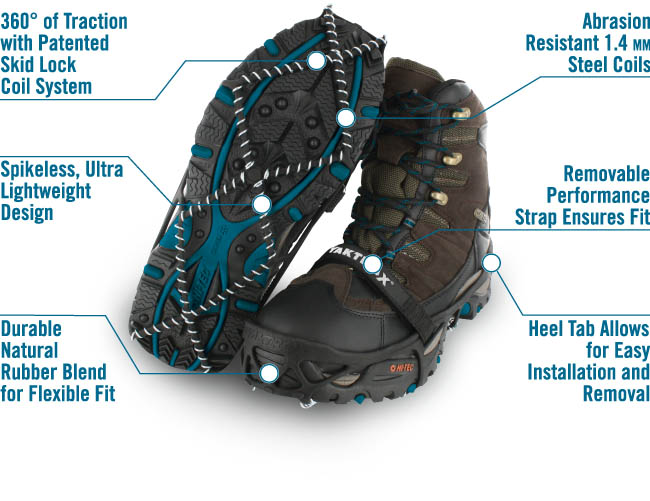 We got like 6″ – 8″ of snow where I live in the Northeast and it's been hanging around. The first few days I did some snowshoeing, but over the next few days the snow melted just enough to get crusty and the trails got pretty tracked-out and I was relegated to hiking. Given my longstanding hatred of treadmills and the fact that the surf has been relatively flat, I needed a plan C to get back out and de-stress.
I run trails and from time-to-time with my friend and neighbor Dan and he asked if I had Yaxtrax and wanted to go on a run – I didn't, but a run sounded great. So today with my new
Yaktrax Pro's
I hit the frozen, muddy, snowy tracked-out trails not expecting much from these spikeless, rubber and coiled-metal contraptions that slid over my regular running shoes and fastened over the forefoot with a single velcro strap.
For the first mile or so I took it easy, gently testing lateral movement and I felt as locked in as though I were on dry ground. By miles 3 and 4 I was cutting confidently through treed trails like Barry Sanders cutting through the Bears defense. OK, maybe more like Colonel Sanders cutting through a boneless variety bucket, but I gotta say I was impressed with the way these things held ground.
Features of the Yaktrax include:
SPIKELESS, ULTRA LIGHTWEIGHT DESIGN
360° OF TRACTION WITH PATENTED SKID LOCK COIL SYSTEM
DURABLE NATURAL RUBBER BLEND FOR FLEXIBLE FIT
ABRASION RESISTANT 1.4MM STEEL COILS
REMOVABLE PERFORMANCE STRAP ENSURES FIT
HEEL TAB ALLOWS FOR EASY INSTALLATION AND REMOVAL
For anyone looking to hit the trails in suspect conditions, trust the Yaktrax – they work. Price: $25-30.
Posted by: Lawrence