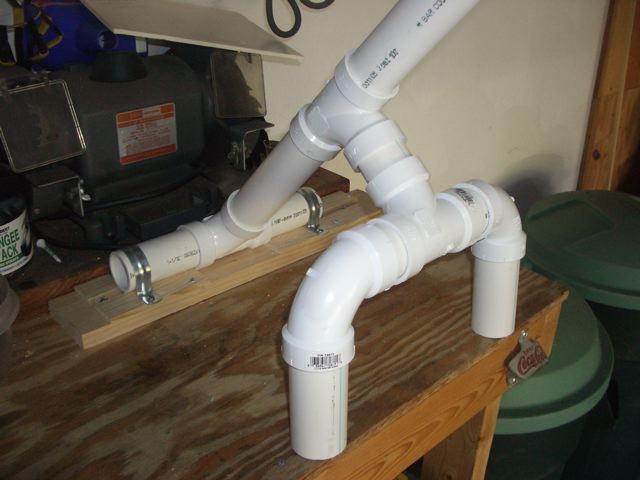 As promised, here are pictures of the completed PVC bike stand. I modified the original plans found on Instructables somewhat to both reduce parts and hopefully increase the strength (I'm not an engineer). I simply lengthened the front legs and did away with a 45 degree elbow and small length of pipe.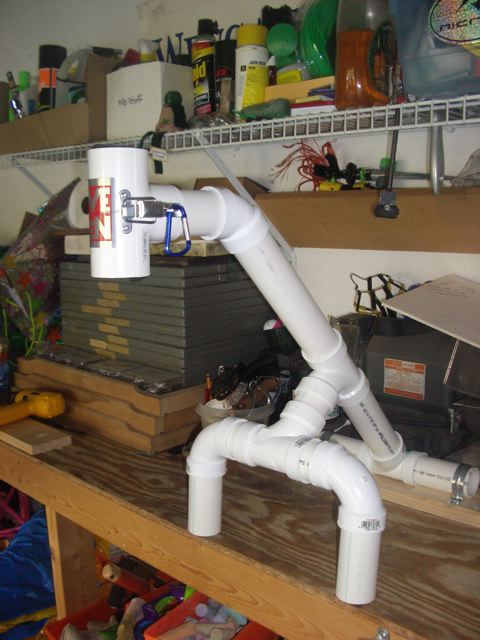 I also decided to mount the rear of the stand to a plank that I could fasten down to my garage workbench with wing nuts. This way I can easily get it out of the way if I need to work on another project. Obviously with the weight of the bike there is no need to secure the front legs.
Most of the PVC was purchased from Home Depot. It is very difficult to find 1.25-inch PVC as Instructables suggests, so I went with 1.5-inch. I also got really luck with the clamp, the tee fit so snugly in my Stanely 20-112 Clamping Mitre Box that I could cut it in half damn near perfect. I left it in there to attach the hinges as well as the clasp.
The clasps were found at an ACE Hardware store, I use a little toy 'biner to clip through it, in the unlikely event it comes open when I'm cranking down on something. If you like tinkering with your bike and don't have a work stand give this project a shot, it's very simple.
Posted by: Lawrence