Ghetto Gorp – You Heard it Here First Punk!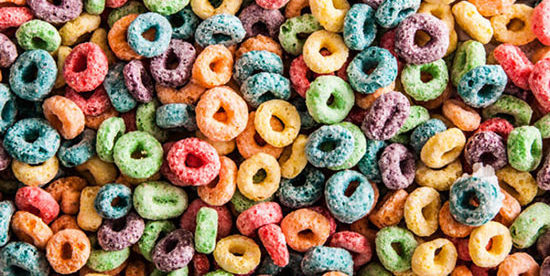 Climbers burn a lot of fuel. At my weight an hour climbing can burn as much as 900 calories (estimate the number of calories you burn in a given sport here).
In a mad rush to pack my gear and grab some fuel for a trip to Rumney, I devised a tasty little sumthin' I call Ghetto Gorp(tm). From the first taste I knew I struck on something special. It gave me an energy burst, tasted good and was a reward all wrapped in one fantastically sweet treat!
Traditional gorp consists of seeds, nuts, dried fruit, granola, etc and is a longtime favorite of hippies, hikers and yes, climbers. Ghetto Gorp is not only for the unabashed modern-day cragger, but anyone unafraid of a little colorful and sugar-fueled goodness.
Derived from a variety of cereals, cookies and candy Ghetto Gorp provides a quick and tasty lift while piling on loads of empty calories! Ghetto Gorp recipe:
1 part Captain Crunch (I think the hint of peanut butter works well here but I've also used Fruit Loops, Frosted Flakes and others, which I like to think of as Ghetto Gorp Fusion)
1 part crumbled cookies (Oreos work best)
1/2 part M&Ms
1/2 part dried pineapple
1/2 part Honey roasted peanuts
Optional: Pixie Stix
Put it all in a big old bag and shake – Word up to Ghetto Life.