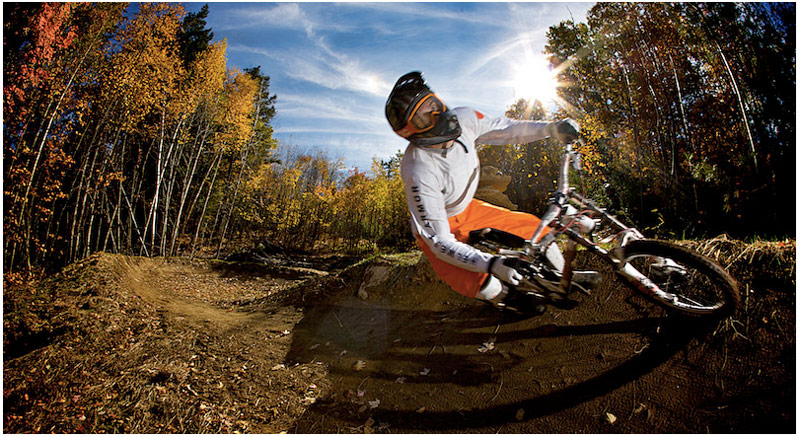 I was lucky enough to enjoy 3 early powder days last week in Snowbird, Utah. The conditions were not only amazing for early December, they were amazing for any day of any month. But more than fresh lines, blue skies and incredible terrain, what got me stoked the most was sharing it with two friends.
That's the thing about about Stoke – it's way better when shared with friends. Two friends that clearly understand this concept are Justin Cash (Woodstock, VT) and Mike Horn (Crested Butte, CO). After several years working together as photographer and writer in the outdoor industry, these stoke enthusiasts decided to launch their own media company to share the stoke and StokeLab.com was born.
In this interview, Justin and Mike share what get's them stoked, how to capture those moments and what StokeLab does to evangelize the masses by spreading the stoke.
What gets you [StokeLab] stoked?
Spreading stoke far and wide, interacting with our readers/viewers, and putting out a kick-ass product with blood, sweat and tears – okay, nobody's cried yet, but stoke never sleeps so it's a lot of work. It's really gratifying for us to create an alternative stoke-filled universe, and add at least a few positive, inspiring minutes to peoples' lives.
With two issues under your belt you wowed us with photography and insightful stories. What's the response been like?
Well, if we're "wowing" people as you say, than that kind of response is all we could hope for. We've received a lot of compliments from a diverse group of readers, and feel we're accomplishing our mission, or at least are on our way there.
How long does it take to produce a single issue and how often can we expect to see new issues?
New issue every two months, and each issue always takes longer than we plan for – the ideas come first, then we have to convert those ideas into stories, which requires shooting/requesting photos, assigning and editing stories, layout and design, and so on.
Can we ever expect to see Stokelab in print? Is that even a goal of yours?
"Never say never, but print is not our focus right now. Our goal is to continue refining the digital media experience, to make it more interactive and aesthetic. That said, Stokelab will evolve with its readership, and if our readers demand a print magazine down the line than it's something we'd have to at least consider. But for now we're capitalizing on the advantages of digital distribution and production, namely, delivering the magazine and all our content for free.
With Stokelab it's evident you practice what you preach. What are some of your favorite adventure sports and how did you come to discover them?
Justin – "I'd say my longest running passion would have to be snowboarding. I might even credit you, Larry (bitness.com founder), with turning me on to snowboarding back in '85-'86. You showed it to Jason Gould and I, when I saw his red and black Burton Elite 140, I knew right then and there I needed one. More recently I've been enjoying fly fishing quite a bit in the summer (not so extreme). This winter I am planning on getting into SnoBlading, the sport has kinda died out a little, but I'm on a one-man mission to bring it back to the slopes."
Mike – "Snowboarding is at the top of my list as well, with mountain biking a close second. I love surfing also but am not very good—at all. Being landlocked in Colorado doesn't get you much wave time. My first snowboard was a Craig Kelly Air I bought at a thrift store for $15, with bindings. Still got it."
Is there any user-generated content at Stokelab, or do you generally work with select contributors?
We're just getting started, and are very fortunate to have a bunch of contributors delivering top-level stories, imagery and video content. With two issues out, we're also receiving more queries from writers and photographers looking to get involved. As for user-generated content, that is on our radar and we are always making efforts to interact with our readers as much as possible. We recently gave away a season pass to Jay Peak Resort, and asked our viewers to submit their stories of stoke, for example.
What are some tips for the amateur photographer to capture great adventure pics like we see on Stokelab.com and justincash.com?
Thanks for the compliment. Technically, I would suggest searching for cool and interesting angles, try to get real close to the action, or climb a tree to get a different perspective. Also, I would add, don't be afraid to direct the athletes, tell them exactly what you are trying to create and exactly where the peak action needs to be. This will greaten your chances of nailing a banger image. In the end, I'd say shoot as much as you can and make sure you are enjoying what you are shooting – if you are your stoke will show through in your work.