Koraloc board bags – fire your surf sherpa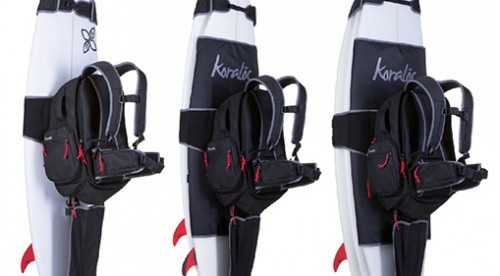 For anyone that has to hike to get to a secret or not so secret spot, you understand how much it can suck to have to carry your board over long distance. Who wants to have pumped-out arms after a long hike before you even get your toes wet? Last week I hiked to my secret spot with a short board. After 90 minutes in the water and with changing conditions, I realized I'd be better-off with my fish. So I got out and hiked/ran the 3/4 mile back to my truck (yes, in my wetsuit) to swap boards and finish the session on a more suitable stick.
Confirming the old adage that any press is good press, Kook of the Day posted a picture of the Koraloc board bag. Where they saw kookiness or humor, I saw form and function and many other commenters concurred. The Koraloc board bag looks like a useful tool for those who bike, skate, or hike to their surf break. It looks like it stays out of the way of your heels, can hold multiple boards, sits comfortably on your back for any mode of transport and made of 1680D Poly Ballistic PU3 and weighing a hefty 6 pounds, this 20″ Tall X 14″ Wide X 8″ Deep bag certainly seems durable.
Other features of the Koraloc board bag include…
2.5 litres of storage
laptop pocket (don't bring your laptop to surf or you are a kook)
wet/dry bag
side pockets for wax, fins, etc
change mat
side handles
adjustable straps for comfortably fitting to you and your board(s)
Buy the Koraloc board bag – $199.00USD
Posted by: Lawrence