Trace – activity monitor for action sports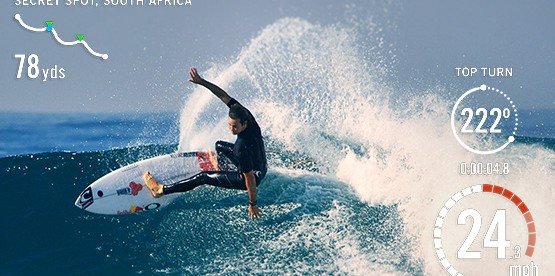 Trace – what started as a Kickstarter campaign in August of 2013 has resulted in what many consider to be the most advanced product of it's kind. The hardware is part of the magic – a small disc about the "size of a Reece's Peanut Butter Cup" that affixes to your snowboard or surfboard and uses GPS to track metrics for snowboarders (vertical, calories, airtime, speed and more) and surfers (waves, speed, cutbacks with turn radius and more).
What might be even more interesting than the hardware is what you can do with the data once you're session is over! You can pair Trace with the footage you capture on your GoPro. "Trace uses the metrics that you generate to determine what parts of your video contains action, and which parts to discard. Just sync your camera prior to filming and when you're finished, upload the raw footage to our Mac app. Your raw footage will automatically be cut into individual waves or runs — all color corrected and with your stats added." Data can also be synched with phone app immediately after use in snow or water.
Having your video get edited-down for you is – as many GoPro users know – a godsend. To be able to overlay stats on the video is not only insanely cool, but useful for training and other applications. You can also share your data straight-away using built-in tools to share on Instagram, Facebook or vis SMS text messages.
Hopefully a hands-on review this winter (surf and snow). You can buy trace now for $199 for yourself or the shredder in your life who's deserving of the gift of stoke this holiday season.
Posted by: Lawrence