Revl Arc – stabilizing 4K action cam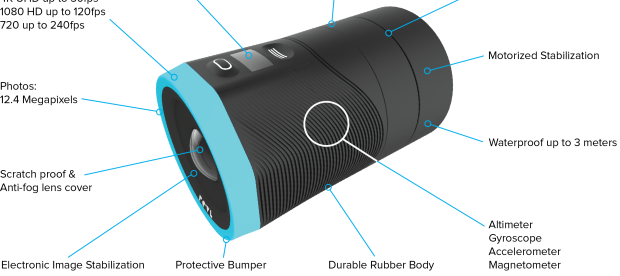 Another interesting prospect has arrived in the already crowded action camera market. The Revl Arc stabilizing 4K action cam differentiates itself from the competition primarily with their image stabilization, which uses a built-in gyroscope, barometer, accelerometer and magnetometer. It also has built in connectivity, assisted editing (see the Bitness article on Trace for another take on this) and an app that allows you to track what friends are up to – all look promising and there is significant innovation here worth getting excited about.
I was less excited when I started the video and saw bungee jumping… how extreme. But watched in disbelief bordering on horror when the action progressed to car surfing, hanging out of car windows, taking narrow shoots in a speedboat full of people at nearly 40MPH and editing your footage while driving.
While we don't condone any of those activities, we can recommend you take a look at the Indiegogo page for the Revl Arc and consider investing in it.
Other features include…
Records 4K at 30fps, 1080p at 120, 60, 30fps and 720p at 240, 120, 60fps
Live-stream at 1080p
Shockproof and waterproof to 10 feet (3 meters) without a housing
Stores to microSD cards (up to 128GB supported)
User replaceable battery
Up to 90 minutes recording time at 4K (without Wi-Fi)
Standard tripod mount as well as specialized mounts created for the camera
One-button recording
Revl mobile app for live preview and controlling the camera and its settings
Apple Watch support
802.11n Wi-Fi and Bluetooth 4.0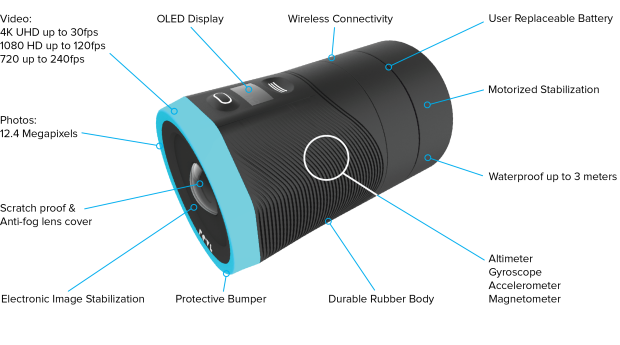 Availability: December 2016
Posted by: Jason