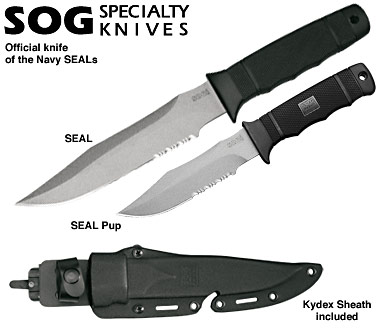 When shopping for a survival knife there are several qualities to consider. Remember you're not looking for a knife to open letters, peel an apple or, as some of the cretins I work with do, trim and clean your fingernails during meetings. You want a knife that can double as an axe on small timber by pounding it with a rock. A knife that retains its edge after considerable abuse, one that is durable enough to resist corrosion in less than ideal circumstance and a knife that ideally, has a partially serrated edge to make it more versatile.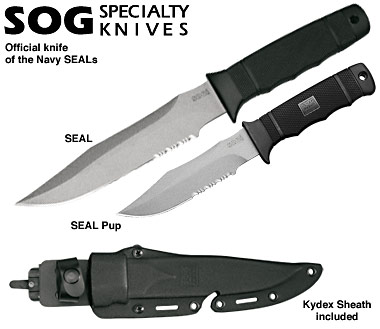 The SOG Seal Pup is just this type of knife. The AUS stainless steel full-tang blade measures 4.75″, a half-inch longer than the 4.25″ handle (9″ overall for the English majors). This knife is the little brother to the SOG Seal 2000 knife used by Navy Seals and it will swim with you as a reliable dive companion (careful, no buddy breathing).
The Seal Pup has a nice hefty/quality feel to it that belies it's 5 ounces. When sheathed it can easily be attached to belt, vest or (for diving) your leg. If there is a downside to this knife it is the scabbard itself, which can scratch the knife finish and does not allow debris (sand, dirt, etc) to easily escape. Some have taken to making their own nylon or leather sheathes to better suit their needs.
I'm all about peace and love people, but unless you can get an animal to commit suicide for you in the wild, a tree to lay down and play dead or you have really sharp teeth, a good knife should be the first item in your survival kit (right up there with plastic sheets and duct tape ;). Consider the SOG Seal Pup and please, please keep it safely out of the reach of children.