SurfPack Gear: Hands-free 60L Backpack Carry System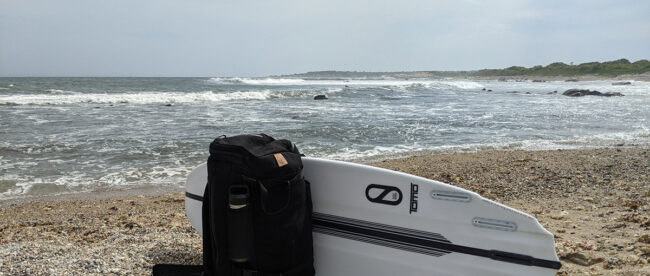 This is a hands-on review of a hands-off surfboard (and gear) backpack carry system that is a game changer for anyone who hikes to remote surf spots.
COVID has caused significant crowding at surf spots everywhere, providing added incentive to hike to more remote spots to surf alone or at far less crowded breaks. One local spot has about a 3/4 mile hike in/out and while that's not too difficult a hike, bringing more than one board and gear has caused tired arms before getting wet.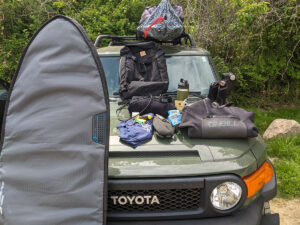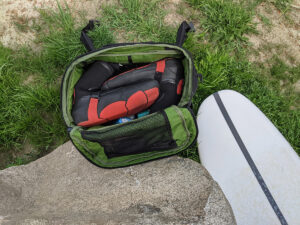 This past weekend we had the first significant swell in a long time and local spots were crowded… the perfect opportunity to test the SurfPack 60L Surfboard Carrying Backpack. I packed the 5/4, booties, gloves, towel, food, hydration and some basic tools. The SurfPack Gear packed easily and wax, car keys and fin key had obvious storage locations for easy retrieval.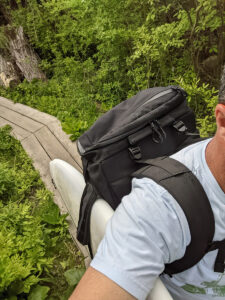 There are two straps – one on either side of the backpack – which securely holds surfboards of any length and widths between 16-24 inches. It was initially awkward to strap my 6'4″ Cymatic and at first I strapped it in the middle, which felt too high. I re-strapped it about a quarter of the way down from the nose, allowing me to keep my arm over the top of the board for extra security. On the way back I strapped it right down the middle and trusted the system to hold and it did. I also used the exterior wetsuit hanging system on the way back and mesh pockets for gloves and booties allowing me to keep all the stowed gear and equipment dry in the 60L main compartment.
At 5lbs, the SurfPack Gear Carry System feels as durable as it looks. High quality, well-stitched fabric, strong nylon webbing, rubberized zipper pulls, secure clips, hip and chest straps and sensible areas to accommodate all your belongings.
Whether you have long hike-ins, like to surf-travel or just want to keep you gear organized before and after sessions, the SurfPack Gear is a great solution for you or the surfer in your life.
Price: $199.00 – Buy Online