Triathlon Credit Crunch Acessories: Running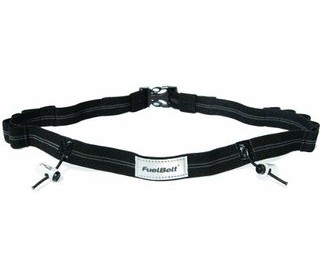 Triathlon Credit Crunch Series: Swimming | Cycling | Running
Running is a pretty inexpensive discipline anyway, once you get past the shoes. My advice: don't skimp on the shoes. Find a good running shop that looks at your running stride (maybe even videos you for a few minutes) and makes recommendations based on what they see and discuss with you. Try on a few different pairs, and make sure you get the right shoes.
Elastic Running Laces
Available in a variety of bright, neon colors or some classic colors, put these on your shoes and you have just shaved 30 seconds or so off your next race time in T2 without having to know anything about Lactate Thresholds or heart rates! These are also ideal for doing brick sessions and practicing transitions in your training. And, elastic laces make it much easier for me to change my shoes quickly, for example, when I cycle to work with cycling shoes, but I don't want to walk around in my cycling shoes and ruin my cleats when I get there.
Race Belt
For classic black or a choice of red and pink (hey, Team TBB races in pink, so don't tell me that pink isn't tough or cool or hard-core).
It just makes life so much easier to be able to slide your number around to your back on the bike, and then slide it around to the front on the run, rather than pinning numbers to your top. And ease of use it what it's all about on race day, thinking about setting new PBs and not the safety pins you'll need for your race number.
Fuel Belt
The Nathan Triangle Insulated Angled Holster Waist Pack is my favorite of the fuel belts for taking on longer runs. It has a good-sized water bottle holder (which is compatible with standard-sized water bottles for the bike), a zippered pocket to hold a house key or whatever you need to take with you, and is more adjustable than other products I have tried. Generally, Nathan seems to make a lot of different products that are well-thought out and comfortable.
Don't neglect the importance of hydration and fueling on those longer sessions (for me, anything longer than 60 minutes) or higher intensity sessions, so get into the habit of carrying something with you on the run. You might even find yourself out on a race course where they don't have any water stations, so you might want/need to wear a fuel belt in a race.
Final pointer on inexpensive ways to run better: run barefoot. It's an area full of controversy and disagreement, and I for one am not advocating that you never put on running shoes again. But, find a nice grassy field (even better a not-very-steep grassy hill) or a beach, and run without any shoes on for a few sets of strides or short drills. You will use more of the small muscles in your feet and lower leg, and develop better sensitivity in your feet.
Posted by: Robert