Tubular tires: a hate-becomes-love relationship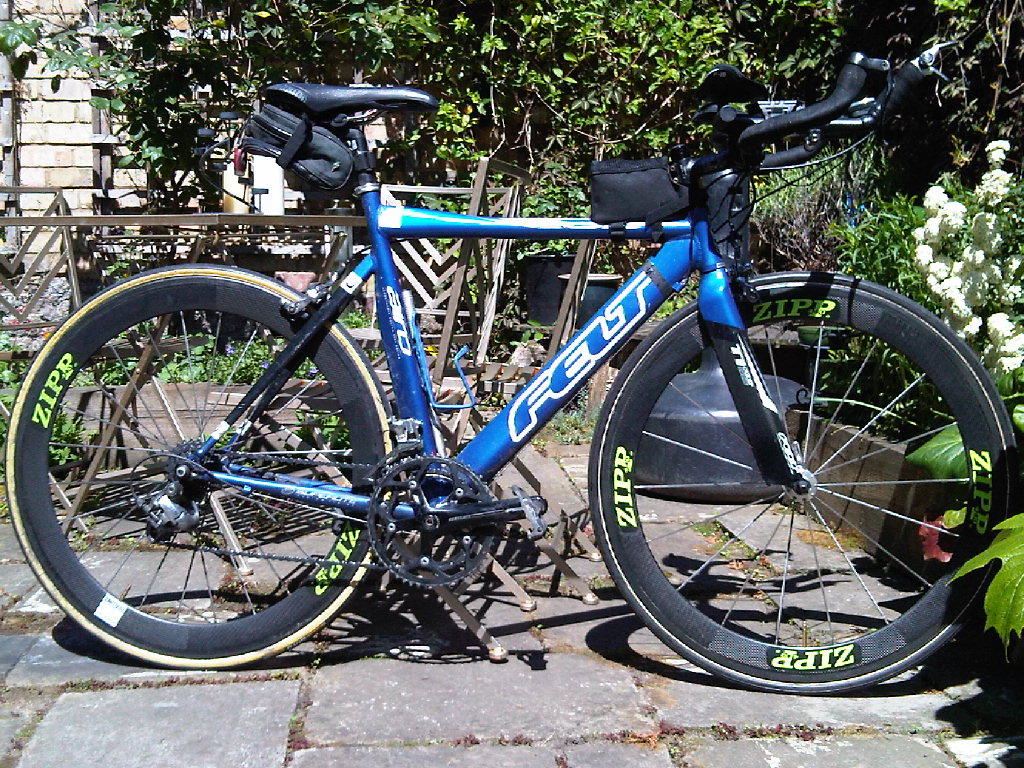 In a moment of weakness, I put in a bid on eBay for a set of Zipp 440 carbon fiber tubular tires a few months ago. A new set of those wheels, the Zipp 404 tubulars, cost at least $1,500 for the pair (and that's without skewers, cassette, tape and tires), and there was a pair for sale at about $500, with tires and cassette.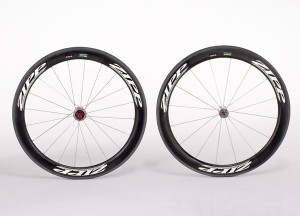 As I got caught up in the heat of eBay bidding, I also undertook a crash course in tubular carbon fiber wheels to see what I was getting myself into. Here are the pluses I learned about:
obviously, carbon fiber wheels are lighter and stiffer than aluminum or alloy wheels, so they're faster
tubular tires are glued to the rim, rather than held on by the metal "hooks" of clincher tires, so tubular wheels are lighter than clincher wheels
tubular tires are much higher pressure (150-200 psi versus 80-120 psi) and so can be much faster, thinner tires than clinchers
Zipp carbon fiber wheels like these make pretty much any bike look totally awesome
Well, needless to say, I won the bidding war and became proud owner of a set of Zipp 440's and then quickly learned some of the minuses of owning these wheels:
you need special, compressed-cork brake pads for carbon fiber wheels (unless they have an aluminim strip around the outside) because your regular rubber brake pads will damage the carbon fiber rims, so that's an extra cost there of about $20
you may not be able to fit your normal accessories on your new wheels (speedometer sensors, etc) since the spokes and wheel shape will probably be very different on these wheels, so that's a pain
flat tires with tubulars are VERY expensive and a major pain in the ass – you can't just whip off the tire, stick in a new inner tube, pump it back up and then head off like you can with clinchers; you have to peel the tire off the rim, re-glue a new one on and work it back on by hand (DO NOT ever try to use tire levers on a carbon wheel, unless you want to destroy them)
you can't use a hand-held portable pump to get enough air into tubular tires when you re-inflate them (maybe only for very short emergency purposes, but 80-90 psi from a hand-held pump just won't cut it on 150-200 psi tires), so you end up carrying around lots of expensive little CO2 cartridges to inflate tires on the go
you can buy repair kits for tubular tires, if you want to spend an entire day unstitching the sewing, repairing and replacing the inner tube and then re-stitching the tires back together again – OR you can throw away the flat tire and replace it with a new one – new tubular tires cost about $40 to $120 … EACH
yup, that's right! every time you get a flat you are talking about a minimum of $40 for a new tire, maybe $5 worth of rim tape and another $5 for a CO2 cartridge – compare that to fixing a flat on your clinchers with a new $7 inner tube
On my first 4 rides on these new wheels, I got 4 flat tires. The costs mounted up quickly and I started to panic. It was costing me about $60-70 every time I went out for a ride, and it was seriously taking the fun out of these sleek, fast, sexy new wheels.  I began to look at my old aluminum clincher wheels and think that maybe I had made a horrible mistake and needed to go back.
But, I didn't. I stuck it out. I did several more long rides on the 440's and didn't get any more flats. I ride around now, with 2 spare tubular tires in my back pocket, a roll of tub tape, and about 4 CO2 cartridges, ready to deal with flat tires if and when they come along.  But, touch wood, it hasn't happened for the past 5 rides.
And these wheels are awesome. I am noticeably faster on all gradients, sharper around the corners, and I am having significantly more fun than I was at this time last year.
So, my verdict: I love these wheels. I am going to keep them. I am having sooooo much fun with these wheels.  They are more expensive to own and maintain, they are more hassle to fix, they require more time and attention than my old wheels. But they are soooooo worth it.
Posted by: Robert