Wavecave – I'm Pitching a Tent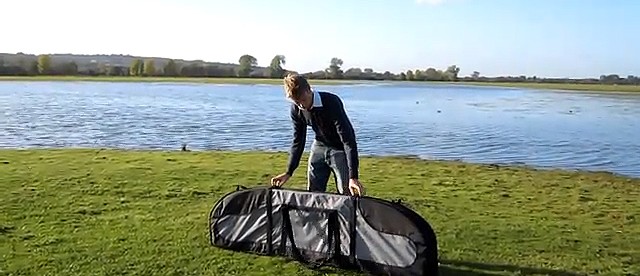 For those that can afford it, the ideal surf vacation is a boat trip or a surf resort. For those tighter on cash or up for a purer experience, camping on the beach is where it's at. Bring enough fresh water, adult beverages, some canned food and fishing tackle and you're ready to jump on it when the surf gets good throughout the day – and night.
For sleeping accommodations, a minimalist is likely to bring a sleeping bag, hammock and bug net. But there might be a more minimal and likely more comfortable way to dirtbag it – the Wavecave. You have to bring your boards anyway, so why not a board bag you can convert into a tent? Constructed of 300-600D PVC waterproof canvas, 12mm high density polyfoam padding, tarpaulin, 5mm dividers, waterproof tent material and 5mm fibreglas rods, the Wavecave is a padded pause paradise for the tired surfer.
The Wavecave comes in 3 sizes, each provides varying degrees of room for boards and shelter:
1. 6'8″ Double Wavecave (2 x shorboards): ~ $260.00
2. 6'8″ Triple Wavecave (3 x shorboards or 2 x shortboards and 1 x semi gun or 2 x shortboards and 1 x kite or 4 x boards may be squeezed inside (other combinations possible)): ~$287.00
3. 7'8″ Triple Wavecave (3 x mini mals or 2 x shortboards and 1 x gun, 2 x shortboards and 2 x kite, 4 x boards may be squeezed inside (other combinations possible)): ~$315.00
Posted by: Lawrence
(Source: Gizmodo)