HangTimer: Back-up that Spray with Some Facts Son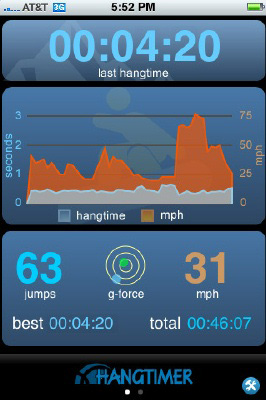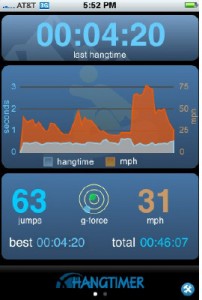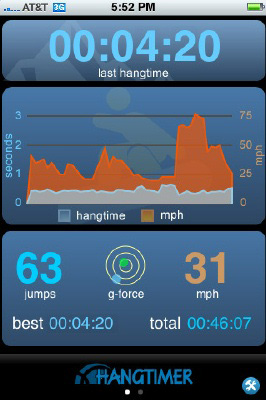 Many moons ago I wrote about the Airpod, a device you wear while snowboarding that measures hang time while pulling airs. Now an application for the iPhone does that and adds a few more bells and whistles to boot.
HangTimer for the iPhone uses the iPhone's accelerometer and "hairy math" to calculate air time from the point of take-off, speed at take off and location at point of take-off. HangTimer detects your location and provides trail maps, snow reports and resort web cams (when available). For 3G users there is the following added functionality…
Detailed speed and location of every jump
Link to Google Maps to plot your hits
Top Speed at takeoff for every jump
Of course the HangTimer can be used for any sport where it's safe to have your phone on you (mountain biking for example). I'm interested to know if, when climbing, will the HangTimer measure falling distance (WhipperTimer anyone)?
The full version of HangTimer sells for $9.99. There is a free version which lacks many of the features described above, but does measure hag time and tracks your best jump and total airs per session. Personally I feel this app is well worth it, since I can slip my iPhone in the pockets of unsuspecting 'big air' friends only to bring them back down to earth aprés.
Posted by: Lawrence