Bear Grylls Knife Costs $700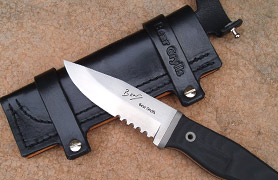 Man vs. Wild star Bear Grylls is no doubt a surviver. Consumption of live snakes, sheep's eyeballs, decomposing Zebra, still-warm Yak livers and worse, but a man's gotta eat! He free-solos cliffs, wrestles wild beasts, drinks from elephant dung… face it, the man survives.
Certainly Bear doesn't need to risk life and limb by down-climbing a waterfall, eating live snakes or puss-filled grubs – but it does make for entertaining television. Many scoff at these Fear Factor-like antics, but it has viewers peeking through their fingers and muttering 'that crazy bastard' over-and-over. Some critics go as far to say that Bear misinforms his viewers by taking these risks in remote regions.
In many survival circumstances the best advice is to stay put and wait for rescue, but Bear is seemingly being chased in every episode, burning precious calories to sprint down a sand dune or swim a freezing cold lake. Of course sitting around and waiting for rescue would make for pretty ho-hum TV, so Bear turns on the bravado and the charm to keep us watching as he performs fearless acts of 'survival.'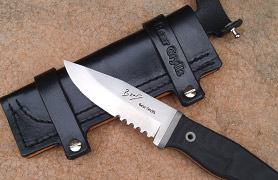 I can forgive the fact that Bear bends survival tactics for the sake of entertainment. I have a harder time with merchandising the tools he uses for his show. A Bear Grylls 'signature' knife sells for $700. If you have $700 to spend, get a satellite phone and $40 Buck knife.
Maybe this is just Bear 'surviving' in the real world – and he's got a right – but hopefully fans are smarter than that (and smart enough to not drink from elephant dung).
Posted by: Lawrence