Forestman 2010: Sandy Balls, New Forest, Hampshire, England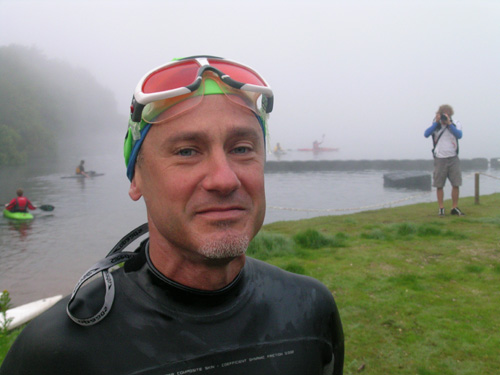 Short version:
No official times or splits available yet, so this is what my stopwatch said
Swim (probably not the full 3.8k/2.4 mi): 1 hour
Transition 1: about 7 minutes
Cycle (180k/112 mi): 6 hours 20 min
Transition 2: about 12 minutes
Run (26.2 miles): about 5 hours 5 minutes
Total: 12 hours 44 min
Someone said they thought I finished in the top 40 out of a field of perhaps 200. So, that's not bad. I'll see what the official results are when they put them up. I was disappointed with some aspects of my performance, see that there is a lot of room for improvement next year. But, I enjoyed the race thoroughly and have a lot of respect for racing at this distance.
Long version:
Lovely small event, well organized by the people at Race New Forest (www.racenewforest.co.uk). It is not an official Ironman event (i.e. licensed by the World Triathlon Corporation to use "Ironman" in the event name, or as a qualifier for Kona world championship places), but still a great iron-distance race with a lot going for it.  There were only about 250 signed up to this race (compared to the thousands who might sign up for an official Ironman race), which I think gives a nicer, more local feel to the race than bigger races.  And the organisation was superb all throughout the day, right through to the buffet dinner laid on for all of us at the finish line.
Start

The swim takes place in Ellingham Water Ski  Lake just on the west side if the New Forest, near Ringwood.  3 laps around the lake for a total of 3800m was the plan.  However, the start was delayed by 25 minutes due to very thick mist settling in on the lake and visibility being very poor (literally, not being able to see more than 20 feet in front of you).  The organizers decided to change the swim course to make it 4 smaller laps, bring the buoys closer together so it would be easier to see them through the mist.  They probably shortened the course, in the process, although they said they would make it as close to the full 3800m as possible.
By 5:50 am, we are all slipping into the unbelievably warm and crystal clear waters of the lake. I have never seen lake water so clear and clean. And the temperature of the water made it so relaxing, it was the exact opposite of most early-morning, bracingly cold open water starts I have experienced. It really put me in a good mood and totally relaxed me right from the start.
Swim
Basically, aim for that first buoy over there, the one you can barely see, and then aim for the next one and the next one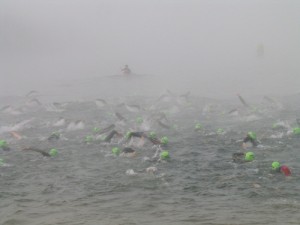 (which you'll barely be able to see), then turn right and aim for the next one and then turn right again, then 2 more, then turn right and that's one lap. Then repeat it 3 more times, and swim straight out to the exit ramp, which you probably won't be able to see until you are right on top of it, but there should be some kayakers to guide you in.  Huh? What? Which? Where? Oh, whatever.
When you can't see the marker buoys to make sure you're on the right course, just follow any other swimmers you can see in front of you and hope they're heading in the right direction.
Very disorienting, very surreal. It was sometimes easier to see where you were going by looking under the water (see the cables that tie up the buoys from underneath) than by looking above the water.
I settled into a very smooth, very steady style of swimming early on and really enjoyed the whole experience thoroughly. At the end of the first lap, I found someone who seemed to be swimming very straight and at a pace slightly faster than mine, so I got on his toes (drafting off of a swimmer in front of you is sort of like drafting on a bike, in that you can get pulled along in their slipstream and go at their pace with less effort) and stayed there for 2 laps.  Lovely!
I came out of the water bang on the 1 hour mark, which must mean that the swim was shortened significantly. 1 hour 15 minutes was my target time, and I am pretty sure I didn't swim that much faster on the day.
T1
Sandy transition area, taking my time trying to dry off my feet, get some socks on, cram some spare tubular tires into the back of my trisuit. Oh, yeah, don't forget the Endurolyte salt and mineral tablets Kev recommended! And sun cream, put on lots of sun cream. Okay, enough faffing, off I go!
Bike
Didn't get a chance to check out the course the day before. Usually a big mistake not to check out the course. Usually means that I will go around the first lap, feeling my way around, unsure of how to pace myself, trying to hold something back for the other 2 laps of the course to follow, but still somehow get the pacing wrong. Yes, that's pretty much what happened.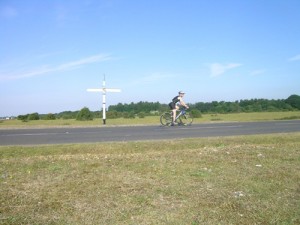 I found the two biggest challenges of the bike ride to be boredom and discomfort.  A small race like this means that you will rarely see other cyclists as you cover 112 miles of road, going round and round and round the New Forest. Not like going for a long ride with Kev, Roz, Lance, Avi, Guido, Naomi or Becky and having someone to chat with. I also learned that my tri-suit didn't really have enough seat padding to keep my butt from getting sore on the ride, and I probably should have worn some proper cycling shorts.
I had hoped to complete the bike course in under 6 hours, but wasn't too upset with about 6:20 on the bike. Note to self: always check out the course before the race and wear proper cycling shorts next time. Also, find ways to cope with boredom, or else do shorter races next year.
T2
Cycle into Sandy Balls Holiday Village (I kid you not), dismount, run with the bike into a new racking area, and then run into the changing tent where I pick  up my run kit (they give everyone a separate bag that is marked and waiting for you, since the transitions take place in two different places). Sit down in a chair and get fanned by some volunteers. Very nice, chatty, relaxed, friendly. Volunteer reminds me to put lots of sun cream on my shoulders and I missed a spot on the back of my neck. Pull on the compression socks and joke with the others that we have 8 hours to get around the course before we have to be worried about the cut-off time, so it should be an easy run today! Hah! Yeah, right!
Run
I could go on and on about the run, but I won't. I've probably gone on and on in this report enough already. The run was brutal. It was mostly a trail run along sandy, dusty, gravely, hilly, exposed terrain. The weather was hot, there was not a cloud in the sky, and at least half the trail had  no tree cover.  It took me a little over 5 hours to run this marathon. I can usually run a marathon in 3.5 hours, and I have done a fair amount of trail running and races this past year, so I did not think it would be this tough.
In some races, there is a point where you see your targeted, ideal finishing time disappear from sight. You try to bargain with the targeted time, like, "If I can just dig a little deeper and pick up the pace again, get some inspiration from somewhere, then maybe I could make it."  Then, you re-set your sights on some new targets, like, "Okay, 12 hours is out of the question, but you can still stay under the 13-hour mark."  Then, sometimes, you reach another point, a slightly more dangerous point (from the view of racing performance), but a much more liberating point, where you say, "You know what? Just get me across the finish line in one piece. Don't let my daughter see me crawling, crying, or stumbling into the medical tent to be hooked to an IV."
And, so I finished the trail run on just over 5 hours, and ran slowly but steadily to the finish line. My daughter jumped over the barrier at the end, took my hand and ran with me across the finish line. THAT was the highlight of my day!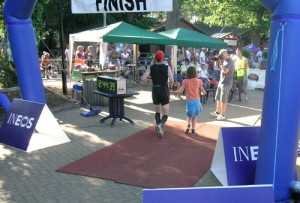 Epilogue
It is the next day and I often judge my race-day performance, on how quickly I can recover. I have a family, work commitments, travel plans and a life to get on with. Triathlon training and racing is important to me, but the other things in my life, ultimately, are more important.  When my daughter says to me, "Dad, am I going to be late to school because you're hobbling around, walking like an arthritic turtle, after your latest marathon/ultra-marathon/triathlon?" it reminds me that I have a responsibility to the people I love, and life goes on when the race is over.
Today, I feel surprisingly good. My legs were really killing me yesterday and I thought I might be hobbling around for a week or so. But (largely thanks to my CW-X compression tights) today, I am feeling pretty good and walking almost normally. And, Ella got to school on time this morning! Much more important to me than finishing under 12 hours.