Who Left the Web Site On?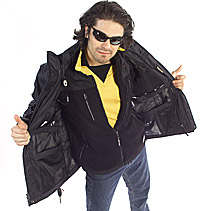 The Scott eVest is proof that you can put a patent on damn near anything. Dubbed a "Gear Management Solution," the SeV promises to get your PAN together by using their TEC. Oh, you're not hip to Personal Area Networks? What's that? You never rocked Technology Enabled Clothing? Step up to 2001 son, it's all about the ZIP-PIP. You feelin' me?
The SeV is little more than clothing with a lot of pockets that have holes in them (finding keys on your person could create a new dance trend not unlike the Macarena). These pocket holes allow you to run headphones from an MP3 player to your collar, where congruous BudBuckets await.
There site doesn't seem very recent and that's probably because people figured out how to put holes in their pockets all by themselves, or just went and bought a Bluetooth headphones. But if you had plans to come out with your own clothing line Mr. Lagerfeld, don't even think about it. Scott eVest has patents, patents pending, trademarks and registered trademarks for:
TEC
Magnetic Closures
BudBuckets
No-Bulge Pockets
DualAccess Pockets
HangingPockets
DeepPockets
All Access
BadgeGrabber
CollarConnect
CreditCarry
Detachable Cargo Cache
Detachable Cargo Cache +
HatHolder
MyMemory Pocket
ZIP-PIP
The Burton Amp from 2003 had holes and a controller built into the sleeve so you don't have to fumble through to find your iPod, that is tech (the newer Audex line features Bluetooth). Many other jackets come with holes for headphones, including my six-year-old daughter's jacket from LL Bean. I don't know if these companies are at risk for violating a patent, but I confess I use my pockets for DualAccess; to access my keys and a quick interior adjustment of the vanilla love log.
The truth is you can't even stop a 3-year-old from creating patentable high technology. My youngest daughter recently developed CouchCache – I'm not talking about loose change left behind by friends, I'm talking about access to real hidden treasures such as Fruit Loops and Barbie Dolls. Rip in the slip cover, I think not – CouchCache homie.
Wearable technology has a lot more to offer than DualAccess, BadgeGrabber and No-Bulge Pockets. I've no doubt clothes will get smarter, control body temp, report vitals (heart, pulse), better resist odor, etc. But Hat Holder?