Yakima StrapThang: Surf more, freeze less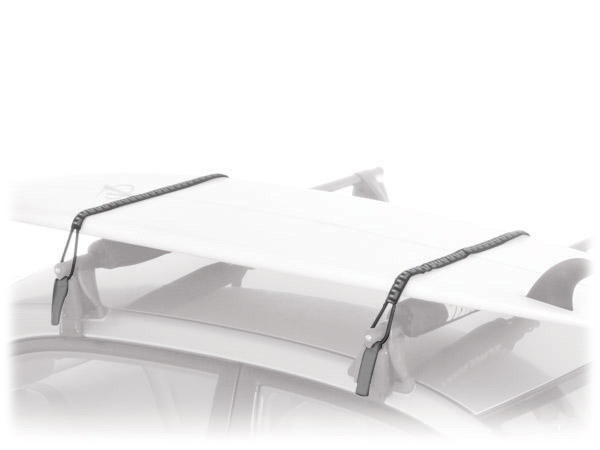 To non-surfers, the Northeast seems an unlikely place to find good waves. It's not California, not Hawaii and too cold most of year to get in the water… right? It seems a well kept secret that waves here in the Northeast are sometimes great and with the right gear it's never too cold!
The only time cold-water surfing hurts is when it comes time to get out of the water and strap the boards on the roof. I've dropped my fair share of F-bombs when my fingers and face froze while fumbling to get my fish fastened (fins forward friends).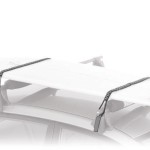 This year a revelation – the Yakima StrapThang which retails for about $70. Now cold-weather surfers everywhere can quickly and securely fasten up to 2 boards (or a board bag) with two quick pulls on bungee cords that hook over special bar-ends (part of the StrapThang package). The time from ocean, to car, to shower (still in your suit mind you) has never been quicker or easier.
I use the Yakima StrapThang in the warmer months too. While my friends are busy weaving straps and fastening buckles, I'm out of my suit and hitting Joyce's for an early pint, or grabbing some breakfast at the Ocean Mist after dawn patrol. It's also the quickest way to get in the water too, with no knots or buckles to undo you can simply release the cords, grab the board and go.
The StrapThang probably works with other rack systems, but you need the included hooked bar-ends which are made for the Yakima system. These ensure that the bungees don't release unexpectedly and your board goes sailing. The StrapThang should also be used with crossbar pads, Yakima sells theirs for about $30.
The loops on the StrapThang are the right size for bare fingers, but not quite big enough for gloves (at least not over 5mm), so you may want to add some cordage as I did to make a larger loop that's easier to grab.
If you are looking for a reliable rack system for surfing you need to check out the Yakima StrapThang. Surf more, freeze less.
Posted by: Lawrence