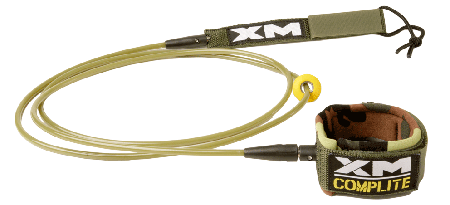 Here in the Northeast we were just blessed with great surf for the past 4-5 days. I was fortunate enough to make it out for 3 of these days and loved every minute of it… almost.
One of the most frustrating parts of surfing is after earning your wave in a lineup, dropping in and realizing when you pop-up to stand, your feet are tangled in the leash. Called 'hog-tying,' this is not only frustrating, it can also be dangerous since your realization often begins when you are coming down the face of the wave.
A few weeks ago I talked with local surf legend Peter Pan who swears by a leash called the XM Tangle Free leash. The concept for this leash is so simple, a small sliding weight on the cord creates just enough drag to keep it shaped and behind the rider, thus preventing it from sneaking up and hog-tying your feet.
Recalling my conversation with Pan I headed to his surf shop Gansett Juice and picked up the 9′ XM Comp leash. This leash has a .220 diameter cord Double Swivel Comp with Slider (the regular XM Tangle Free has a .270 cord). Now I don't get tangled every session, but I do feel the leash around both feet every session and I have to say with the XM Tangle Free leash I never felt the leash around both feet. Not even once.
Check out the video below to see the leash in action and if you surf and have ever been hog-tied, think about buying the XM Tangle Free leash. Even if you already own a leash, it's always best to have one on stand-by in the event yours breaks mid-session in epic conditions!
Posted by: Lawrence