Bodies in Motion Keep Personal Electronic Devices Charged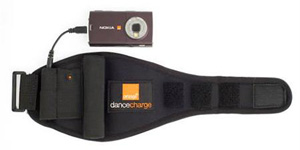 For almost a quarter century, Kinetic watches have kept themselves wound by converting movement into energy. As of 2007, over eight million Kinetic watches have been sold and the notion of harvesting energy from movement is becoming even more popular today with a new generation of what are called Nanogenerator devices.
Nanogenerators have the ability to convert mechanical energy into electricity. Tiny nanowires capture and convert body movement into energy that researchers are using to power small electronic devices. The possibilities and applications are many, including "defense technology, environmental monitoring, biomedical sciences and even personal electronics," says lead researcher Zhong Lin Wang, Regents' Professor, School of Material Science and Engineering at the Georgia Institute of Technology. (source: ScienceDaily.com).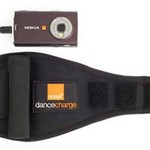 Several new concept devices and prototypes are being announced, including Tremont Electric's nPower PEG, Dance Charge and the Cargador De Celular (fancy SPanish-talk for Mobile Charger). Here is a brief look at these three devices, which provide a glimpse of how we may all power our personal gadgets in the near future.
nPower PEG (Personal Energy Generator) harnesses personal kinetic energy as a person walks and transfers it into enough electricity to charge the average portable device up to 80 percent in about an hour. Measuring 9 by 1.5 inches and weighing about 9 ounces, the PEG doesn't store energy and must be plugged into the device it's charging. Plug the PEG into your cell phone or GPS, toss it in your backpack and hit the path; The PEG will keep the device constantly charged – essential in emergency situations. The PEG uses USB 2.0 and is compatible with 90 percent of portable electronic devices. Preorder yours now for your next trek into the wilderness.
Worn around your bicep and weighing just over 6 ounces, the Dance Charge uses a system of weights and magnets to produce electric current to store energy in an onboard battery which can later be used to charge small electronic devices. Of all the prototype devices, the Dance Charge seems, in my opinion, the most polished an unobtrusive. Boogie-down to charge-up!
Industrial designer Lola Mensa has an interesting concept device called the Cargador De Celular. The Cargador De Celular appears to slide right over the tongue of your running shoe (which might bother me – especially if only in one shoe). An embedded nanogenerator converts the kinetic energy you generate into power stored in embedded batteries. Flip down the top of the device and attach it to your cell phone, GPS or other gadgets post-run for charging.
Posted by: Lawrence