Get Out, Get Fit, Get Immersed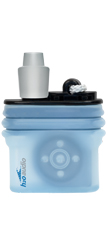 Many runners feel that an MP3 player detracts from the experience of running outdoors. That not being in tune to your breathing, or hearing the birds chirping is cheating yourself. I, on the other hand, prefer Black Sabbath screaming in my head and yes, the occasional Dane Cook comedy break.
The more obvious argument is that running with headphones is unsafe; you can't hear cars, bikes, or pedestrians. I say that only adds to the experience, but I run mainly on trail.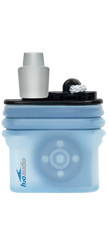 I love to swim, snorkel and even Scuba and being underwater is a peaceful place. It's here I like to be on alert, listen to my breathing and absorb myself in all that surrounds me. A company called H20 Audio thinks you should listen to music underwater too, and sells a number of waterproof cases (depending on your player) and waterproof headphones.
There are many models to choose from, the iS2 is used with the newer Shuffle, is submersible up to 10 feet and can be worn with the included armband. You can also adjust all the controls even while it's enclosed.
If diving with sharks is your thing (props to Eli and Karen) and you think it would be more exciting to do so with a soundtrack, visit H20 Audio and get immersed…
Posted by: Lawrence