Hypoxi L250 – Lounge Riding that 'Sucks'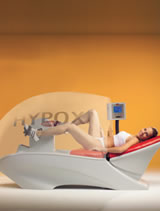 Hypoxi L250 targets fat burn from the lower body using a unique vacuum chamber technology for which Hypoxi is known.
Claims: Increased lymphatic drainage from the lower body, rejuvenated skin, firmer hips, thighs and buttocks. The reclined position is said to take pressure off joints as well as lower heart rate, creating a more effective and spa-like experience.
Our take: Don't get me wrong – I like a firm ass and nice skin. And there's nothing wrong with exercising while laying on your back ;-). But this chamber technology is suspect, dare I say their claims seem vacuous?