The GymBoss – Tell your stop watch or wristwatch 'your fired!'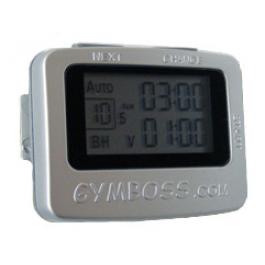 Interval training is increased intensity for a given activity (lifting, running, rowing, cycling) for a measured amount of time, followed by a reduced level activity for a measured amount of time. Typically done in sets, interval training can be anaerobic – fat burning high intensity interval training (HIIT) typically focused on starving larger muscle groups of oxygen – or aerobic, where low to moderate intensity is used for a longer period of time, allowing muscles to 'breathe' and build stamina.
Both anaerobic and aerobic exercise are beneficial and interval training is a great tool to realize those benefits, while at the same time adding a new dimension to workouts to keep them interesting.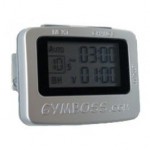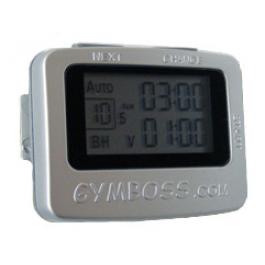 Measuring intervals is easy, but too often it distracts you from your chosen exercise. I've been in all-out sprints with my left arm unnaturally poised in front of me so I could read my watch (with difficulty and added risk). Others rely on a partner's shouts to let them know when to speed up, slow down or stop. A small device called the GymBoss (1 3/4 x 2 1/4 inches) is a lightweight, inexpensive ($20USD) and eliminates the need to focus on anything else but your workout. Clip it to your belt, stick it in your pocket or place it on a shelf for indoors workouts – it's barely noticeable until a shrill beep, strong vibration or both effectively alert you (to be honest the first time it beeped it startled the hell out of me).
The GymBoss easily satisfies what I would consider my basic need for measuring intervals while running. Others use it to time rounds (up to 99 can be programmed) on the heavy bag or for cycling, weight lifting and other pursuits. Other GymBoss features include…
One or two different time intervals from 2 seconds to 99 minutes
Auto mode / repeat through intervals
Manual mode / countdown timer
Stopwatch
The manual is a small double-sided slip of paper they package under the belt clip. If you're just getting started with interval training and want more information, check out some of these sites so the directions make more sense and you can program the GymBoss accordingly…
http://www.intervaltraining.net/
http://en.wikipedia.org/wiki/Interval_training
http://sportsmedicine.about.com/od/tipsandtricks/a/Intervals.htm
For $20USD you really can't beat the GymBoss, it does everything it says it does and does it well.
Posted by: Lawrence