Apple Nano & TikTok + LunaTik – coolest watch ever?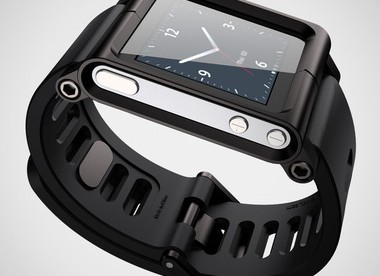 For a geek like me, running gadgets are hard to resist. GPS watches, heart rate monitors, running belts, iPhone in armband, earbuds… I own them all and not surprisingly, I've run with them all… at the same time.
Maybe it's the barefoot craze and the notion of going lighter, I've talked about going lighter in the past, but never did anything about it. Well this season I put my robo-cop runs behind me and the only gadget I need is my Nike+ and iPod Nano 6G.
I've been running with my wrist-mounted Apple Nano for about a month now and can only find a few drawbacks. First, I like to overlay my runs on maps from time-to-time (especially when I travel) and without a GPS (or an iPhone equipped with GPS and an application like NaviGadget) I'm not sure if it's possible. If anyone knows of a way to do this please leave a comment! The second drawback is that I'm forced to wear headphones when I run. With my iPhone I can put it in my armband upside down so the speakers face upwards. With the volume turned-up, it's perfectly loud enough to hear without the need for headphones. There are very small speakers out there, but the current designs are not ideal and anything smaller would probably not be able to generate the volume needed.
For my purposes, the good outweighs the bad and there are plenty of features the Nano and Nike+ offer that replaces the need for multiple gadgets. For instance…
The Nano has a built-in FM radio that works remarkably well
The Nano has a built in Pedometer to track your movement all day long
The Nano allows you to listen to Podcasts (which I love for longer drives)
The Nano has a very simple interface that makes it easy to retrieve run data at the push of a single button
Beyond the benefits of the Nano as a running device, coupled with the stylish LunaTik watch band (starting at $79.95 USD*), it also makes a great everyday watch. I've received numerous compliments and have persuaded more than a handful to buy their own. The TikTok bands are nice enough to wear when you're dressed up and they have recently introduced new models like the Black version (which I totally want). Speaking of colors, the Nano allows you to alternate between a black or white watch face to match your outfit – hopefully one day they'll add more colors!
* The TikTok models are also very sporty and start as low as $39.95
If you're looking for a reasonably priced running watch, look no further than the iPod Nano 6G with a TikTok + LunaTik band and the Nike+ system. It's a light, easy-to-use and stylish set-up that will track all your runs and more.