GoPro 3D Hero System now available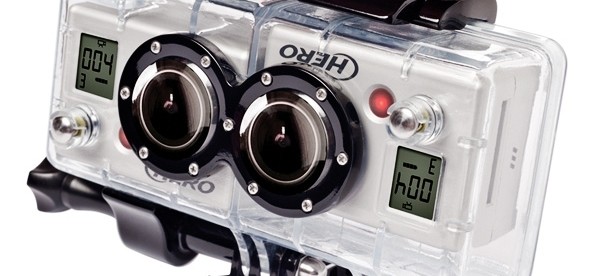 GoPro just announced the release of the 3D Hero System, which allows you to combine two 1080p HD HERO cameras into a single housing to record 3D video and photos while simultaneously recording in 2D. A synchronization cable plugs into the rear HERO Port on both cameras to join them together, enabling both cameras to record video and photos in perfect synchronization. This is a requirement for professional quality 3D and is available only from GoPro.
The included 3D editing software – GoPro Cineform Studio – (recently acquired by GoPro) makes it easy to convert your 3D HERO System footage into viewable 3D files you can watch on your computer, online at sites like YouTube, and on your 2D or 3DTV at home.
Luckily I had my trusty Hannah Montana Best of Both Worlds Red/Blue 3D glasses to check out this 3D video that provides a good sense of just how cool this set-up is!
Features:
Mounting System is compatible with all GoPro accessories
3D waterproof housing is rated 180'/60m deep
Record 3D and 2D video and photo files simultaneously
Includes FREE easy-to-use 3D editing software—GoPro CineForm Studio
Source: GoPro