Craziest Fitness Gadgets of All Time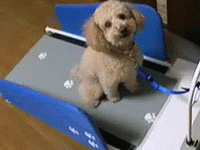 First Page Fitness compiled a list of the craziest fitness gadgets of all time. But as past posts prove on Bitness, there are still crazier gadgets out there. Here is a recap of 7 crazy gadgets covered by Bitness in the last 10+ months (from oldest to newest)…
1. Hypoxi L250 – 'Lounge Riding that Sucks'
A recumbent stationary bike in a vacuum chamber.
2. Mechanical Core Muscle Trainer – 'Giddyup All You Geriatric Cowpokes!'
A mechanical bull-like stool running in slow motion.
3. Scott eVest – 'Who Left the Web site on?'
A jacket with a whole bunch of pockets with a whole bunch of holes.
4. Genetic Supplements – 'Bitness Labs Experiment 18382b.2 Genetic Supplements'
Supplements targeted to individuals based on race. What happens when a Caucasian takes a supplement intended for Hispanics? Anarchy ensues…
5. The Rowbike – 'Row, Row, Row Your… Bike?'
A bicycle you row. Where have you been? Even Kevin Costner uses one.
6. ROM CrossTrainer – 'The CrossTrainer Four Minute Workout'
I don't doubt the benefits, but a 4 minute workout? $14, 615? Sounds like your wallet is getting the workout.
7. The Dog Powered Scooter – 'Keep Them Doggies Rolling'
Not so much a fitness exercise for you, but Fido is gonna get ripped for your beer runs.
Posted by: Lawrence