iPhone & iPod Touch: Thank You Sir May I Have Another?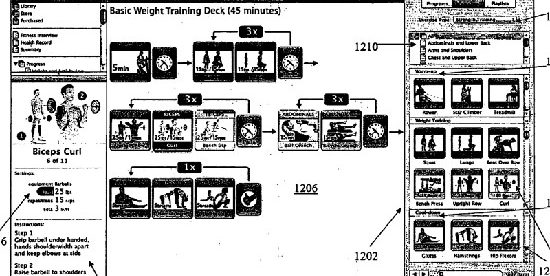 For a company as secretive as Apple, it has to be frustrating for Apple that the Cindy Brady of the Web, the US Patent Office, makes it fairly simple to find and view patent filings online.
AppleInsider did a little digging and revealed Apple's patent filings to develop a digital lifestyle fitness companion. Plans include four distinct components that comprise the system, 'including an iTunes-like software application, hardware-based heart rate and physiological sensors, a rewards tracker, and a component to facilitate synchronous group activities.'
The system asks a series of lifestyle questions; what your fitness goals are, personal and family health history (HIPAA are you listening?). Once the data is collected a fitness regimen specific to the user is created. There are plans for one or more integrated physiological sensors. These could be built-into headphones or in a 'sling' which may not only read heart rate, but hold the iPod/iPhone during a workout.
There are a number of interesting screen shots on the AppleInsider Web site; a fitness model demonstrating proper technique, a tick list of exercises for a particular workout and others.
Source: Apple Insider