Mountain Hardwear jackets provide continuous heat and power to personal electronics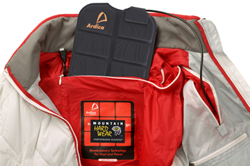 In the Northeast the weather can change in an instant. This time of year temperatures fluctuate +/- 20° F almost daily. Being resistant to bad weather is important in these parts (I see kids in t-shirts at the bus stop in January), being prepared for bad weather is vital.
Mountain Hardwear, a manufacturer of innovative and high quality outerwear and gear, has begun incorporating a heating and charging system into their Radiance and Refugium jackets. Developed over the past several years, the heaters are constructed using stainless steel fibers spun into yarn and sewn into the garments in three strategic locations (one in the back and two in the front) and are reported to work in temperatures 20-30° below freezing and continue to work for up to 8 continuous hours.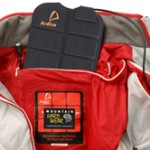 In addition to providing heat, the Radiance and Refugium jackets are also equipped to power an array of personal electronic devices, when utilizing the Tech Connector (sold separately for $50). Charge your MP3 player, GPS, lights cellular and satellite phones, etc – all in the front left pocket while simultaneously enjoying the warmth the jacket's heaters provide.
To power their heated and charge-capable garments, Mountain Hardwear selected the Moshi Power System by Ardica Technologies. Surprisingly unobtrusive, the Ardica system uses a flat, flexible lithium ion battery array that slides into a compartment in the upper back of the jackets. Purchased separately for $145, the Moshi Power System provides power and charging capabilities via a USB cable threaded neatly and discretely from the power source located in the back to the front left pocket. The Moshi battery can be recharged from any standard wall jack and reportedly charges 80% in 1.5 Hours and 100% in 3 hours.
Weighing just 295 grams (~10.5 ounces – about the same as 2 iPhones), the Moshi battery can be pulled from the jacket and used as an on-the-go source for a charge. Fully charged, the Moshi battery can reportedly provide up to 20 charges before needing to be recharged!
All-in-all, the cost of the Radiance or Refugium jackets, with charging capability, is about $425, placing it in the price range of comparative high-end jackets. Wear alone, or under a shell for extraordinary warmth and charge portable electronics on the go!
Posted by: Lawrence