Alaia Surfboard Project – Post 2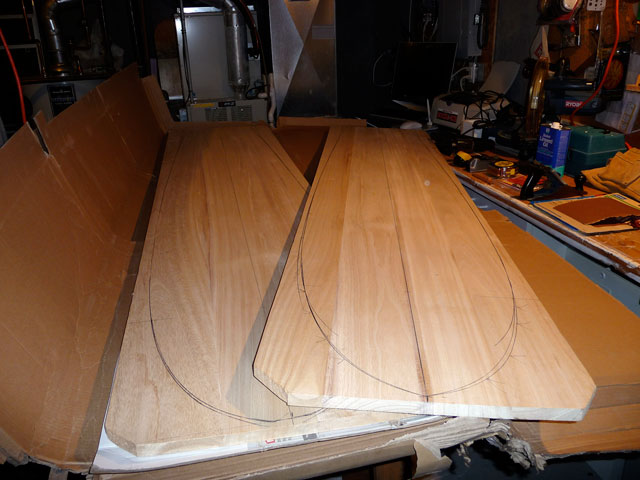 Alaia Wooden Surfboard project: Post 1 | Post 2 | Post 3 | Post 4 | Post 5 | Post 6 | Post 6b | Post 7 | Post 8 Finis
It's been hectic since I received the Alaia blank, but I plan to start on it in earnest this weekend and think I have a plan of attack (thanks in large part to Jon Wegner's suggestions via email)…
Standard Finley tail in favor of the Stuth (I can always get another blank right?!)
All cuts are going to be about 3mm from the lines that define the board's shape
Form 45° bevels on the top and bottom using a small hand plane to start to shape the rails
Sand the rails to shape, leaving the bottom sharper as opposed to round
Cut an 8″ wide channel down the middle starting 1/3 of the way down from the nose*
* I'm still not 100% sure how I'm going to shape the concave. I was thinking about holding the edge of my belt sander at an angle (30°?) and from the center of the board, moving down towards the tail going no deeper than 1/4″ at the deepest point. Then I'd repeat the same process holding the planer on the opposite side from center. This should form the deepest part of the concave – a V shape of sorts about 4-5″ wide that I can then blend out toward the rails. When finished the concave will be about 8″ wide.
I made some test cuts on the parts of the blank that are waste. With no more than 18″ exposed past the clamps the jigsaw makes a clean cut, but anything more and it chatters and ripping is evident. I'll have to keep clamping and un-clamping as I make my way down the board.
Check back for pictures and an update on my next post. Also feel free to comment on the plan above and lend any insight.
Posted by: Lawrence