Alaia Surfboard Project – Post 6

Alaia Wooden Surfboard project: Post 1 | Post 2 | Post 3 | Post 4 | Post 5 | Post 6 | Post 6b | Post 7 | Post 8 Finis
Paulownia dust tastes like shit. I was smart enough to wear a respirator, but in between sips of beer it was bound to be tasted and digested. I consider it part of the "Alaia chi" – I am now one with this board that took longer than I expected to finish – but I'm stoked with the results.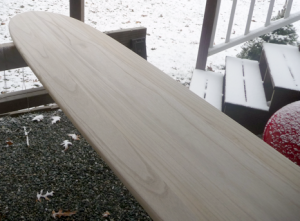 Between sick kids, work, travel, snowboarding, sick me, sick wife, dog sitting, freelance, guitar lessons, shoveling snow and just about any excuse I can conjure… well, I took my sweet time. No challenge really since I don't have a winter suit and looking at a finished board for months will be torture. But by working slowly I was methodical, careful and well researched. I think I made a pretty sick Alaia, I'll know when I ride it in late April (most likely).


There's still no oil on it yet (waiting to wood-burn a turtle on it), but I sanded to 400 grit and it already feels smooth as silk. I will definitely build another one of these and I think if I could do anything differently, it would be to do the entire project outdoors. The time to clean up the dust was almost as long as the time spent building the board! Between a tack clothe, shop vac, compressed air and elbow grease, I finally have a proper, dirty basement workshop again.

Once I burn the turtle graphic and apply the oil I'll wrap-up the series of building posts by posting some final pictures. At some point in the spring when I can venture out in my 4/3, I'll post an update on how it was to ride. For now it's a conversation piece that beckons me. Hamish in Australia, who has been following this project, has his Alaia finished and has already and had a session with his mates. Hamish says "the trick is to paddle really hard, not let the tail swing around from underneath you" and he also reports it is very fast.
Click on any of the images for a larger view. You can hopefully see an eased top/deck – rolled edges and sharp edges on the bottom. The picture from the tail shows the concave best and the upright pic to the right the overall shape and size. I would estimate the total time to get the board to this point to be about 12 hours. I don't expect the 3-4 coats of oil to be more than an hour max (light sanding between daily applications) and the turtle graphic maybe 30 minutes.
Thank you for all your comments and please keep them coming. Hamish sent me pics via Facebook and he did an amazing job. I'd like to see what others have done and perhaps (with your permission) post pictures of the Alaia's all of you have built.
Posted by: Lawrence