Alaia Surfboard Project – Post 5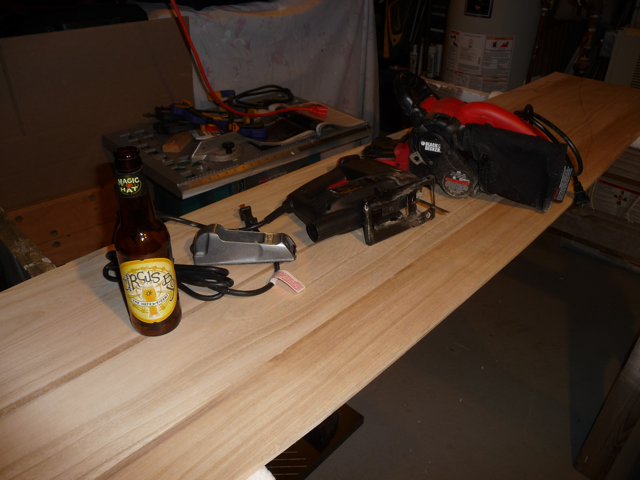 Alaia Wooden Surfboard project: Post 1 | Post 2 | Post 3 | Post 4 | Post 5 | Post 6 | Post 6b | Post 7 | Post 8 Finis
They say a picture is worth a thousand words. In this case I think the words better do the talking because it's difficult to capture the progress made with the concave in a photo. I haphazardly arrived at a method for creating the concave and it goes like this…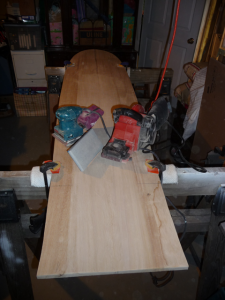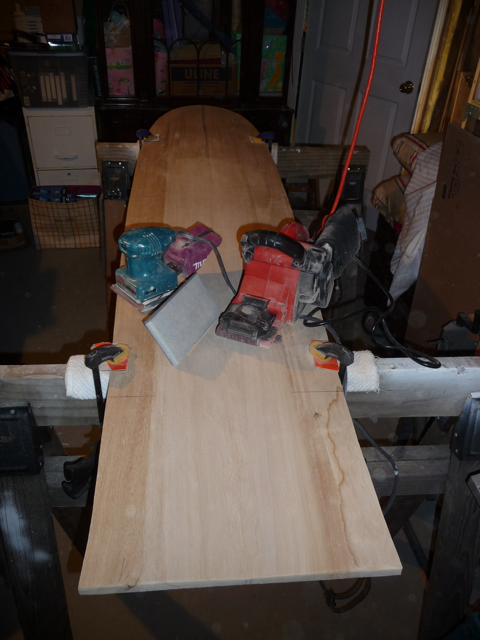 Snap center-line (nose to tail) with chalk
With the belt sander on the center-line at shallow angle, I quickly and carefully sand in one direction
With hand sander, I work from and apply pressure to the center and work outwards
I sand a length of about 18″ at a time, using 12 strokes near the center, 6 a little further out and 3 near the edge
… I repeat this process over and over, each time making the concave deeper and feathering out toward the edges a little more. Reestablishing the center line helps keep the deepest point consistent. I happened to have a weighted metal rod I used to use when tuning skis. I place this rod on the top of the concave on one side let it roll up the other side of the concave and eventually settle in the center of the board (if it doesn't I sand more). I included a picture of the rod as well a some calipers I'll use when shaping the rails.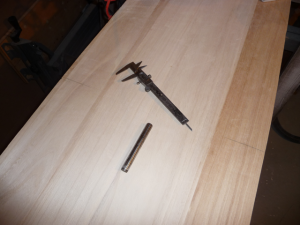 The hand sanding helps refines the work done with the belt sander. I felt a little out of control with the belt sander, but found the results more predictable when working quickly (not letting it bite too much in one place). I tried using the palm sander and it did a nice job, but the dust got out of control. It if wasn't winter I'd be working on this project in the garage, but I'm in my workshop – which is also the boiler room , where I need to keep dust to a minimum.
The process is taking longer than anticipated, but I'm happy with the results so far. Punxsutawney Phil says 6 more weeks of winter anyway, so I've got nothing but time. I'll keep working on the concave using the methods described above and start the next post on the Alaia project with the overall sanding and Linseed oiling.
Posted by: Lawrence