Timex Expedition WS4: Big Size, Big Features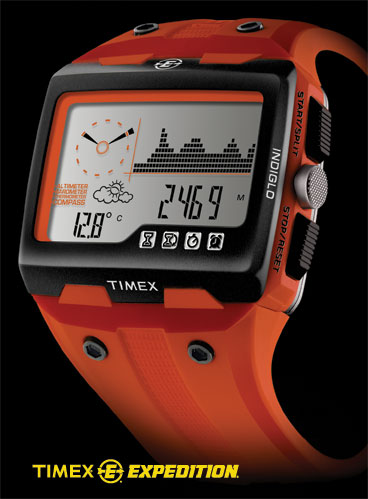 I've owned a Suunto Observer for years, a gift from the wife and I love it. With it I can tell which direction I'm headed, altitude, barometric pressure, temperature and of course the time. While somewhat bulky, it is still stylish IMHO and once configured performs well.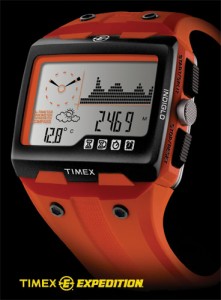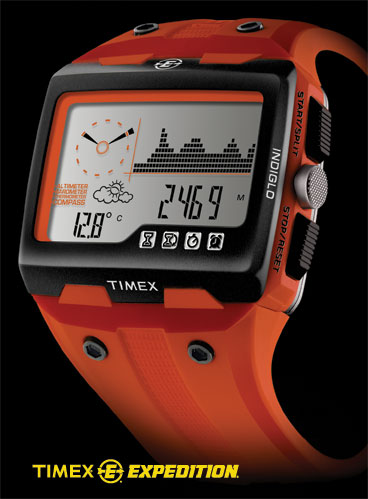 Timex will start shipping the Timex® Expedition® WS4™ on May 1, 2009. Similar in functionality to the Suunto, but no where close in looks, the gargantuan Expedition WS4 offers altitude, weather conditions, compass heading and time at a glance.
Unlike the Suunto, which has you spinning 360s to configure the compass, the Expedition WS4 can be used the moment it comes out of the box UPDATE: Both the Suunto and the Timex Expedition WS4 require manually calibrated. Timex also offers a fabric band to make wearing it over your gear easier, allowing for outside temperature readings, not your arm.
Dubbed a "wrist-top adventure instrument," the Expedition WS4 has weather forecasts that look to be fairly simple to read. On my Suunto I need to be somewhat of a weatherman and figure it out for myself. Available in a half dozen colors, water resistant to 50 meters and lit by Indiglo, the Timex Expedition WS4 is expected to cost about $200.
Posted by: Jay