Yurbuds: Performance Enhancement Earphones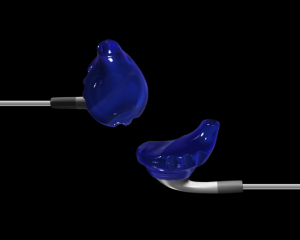 I've always marveled at how small retired NBA basketball and now actor John Salley's ears are. Truth is I have small ears too – not as disproportionate as Mr. Salley's who at 6'11" has ears the size of nickels, but small nonetheless.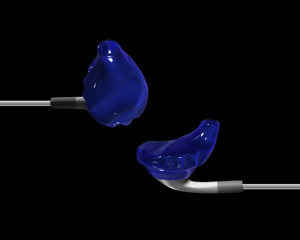 Having small ears was never a big deal back when headphones were worn over the ear, but most headphones today (and Bluetooth headesets) are of the earbud variety and for people like me and JS, keeping earbuds in your ears, particularly when sweaty from working out, is damn near impossible.
Yurbuds™ have an earbud system that caters to people of all ear types and is specifically designed to keep the earbuds in your ear even through intense physical activity. Yurbuds are two soft rubber 'boots' that fit over the provided 'Apple-style' earbuds, but can be used with other earbuds or headsets as well. The Yurbud has a small funnel of sorts that fits into your ear canal and the outer-ridge of the Yurbud is grooved, helping them stay in place – even when sweating heavily.
When you order your Yurbuds you submit a picture of quarter placed just below your earlobe. This helps them determine the size of your ear and fit you correctly to Yurbud for your ears. In all my tests of the Yurbuds – running in near 80F+ degree heat for an hour, the Yurbuds never moved and never bothered me. I also got caught in a thundershower on a run (never fun) and again, the Yurbuds hung in there and Mishka kept signing me up the hills and back to my home.
Because Yurbuds are comfortable over long periods of time and stay in place even while sweating, they're perfect for runners, bikers, and amateur athletes who are looking for a headphone solution you barely even notice.
Priced a very reasonable $29.99, Yurbuds are the perfect solution for anyone looking for headphones that stay in your ears regardless of how much you sweat or for anyone just looking for a more comfortable earbud from prolonged use.
Posted by: Lawrence